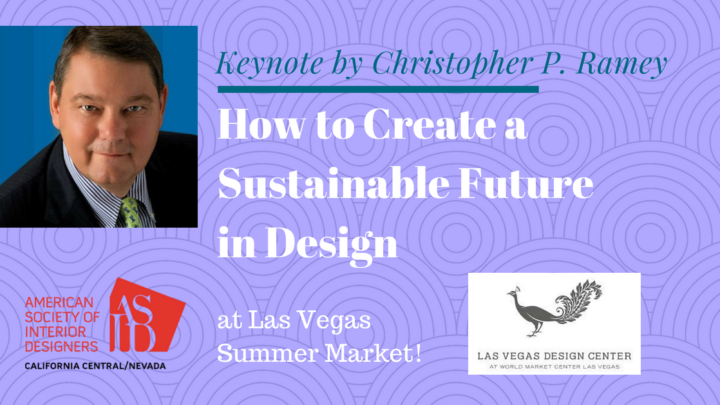 Las Vegas Market Keynote Presentation: "How to Create a Sustainable Future in Design" by Christopher Ramey
Description
Please join us for an ASID California Central / Nevada and Las Vegas Design Center Sponsored Speaker at Las Vegas Market!
Keynote by Christopher P. Ramey:
'How to Create a Sustainable Future in Design'
Futureproofing your firm has never been more challenging. How will you survive an industry in turmoil? By all accounts, fewer clients respect your expertise, traditional marketing is increasingly impotent, online platforms are competing and selling around you, clients are progressively more difficult to please and parsimonious, and your best prospects are barraged by online furniture and catalogue companies posing as design resources. 'Business as usual' is gone when you can't tell friend from foe. It's time to create a sustainable future.
FREE for Las Vegas Market Attendees
(No CEUs are available for this session)
on Sunday, July 29th at 2:00 pm in Building A's New Kitchen and Bath Showroom. A 110
Please join us right after the presentation, for the ANDYZ Awards Celebration in honor of the esteemed 2018 ANDYZ Awards winners!
Bio
Chris Ramey specializes in helping service providers, retailers and manufacturers penetrate premium and luxury markets. His consultancy is Affluent Insights where he owns and manages The Home Trust International and The Luxury Marketing Council Florida. Ramey travels the world speaking and consulting with business executives who desire to increase their sales to the affluent.
Ramey is a highly sought-after speaker, and the most often quoted expert in the luxury segment. He is a member of National Speakers Association and Florida Speakers Association. Ramey also writes a column for a Hearst business publication, and he sits on the Retailwire.com Brain Trust Panel. His first book will be released later this year. Ramey has earned the 'Leadership–Top 5%' appellation from Gerson-Lehrman for his work with private equity firms investing in the home furnishings and luxury industries.
Ramey's vast retail experience includes president of International Design Guild, where he grew the organization from 15 showrooms to over 95 showrooms; it remains the world's largest chain of decorative floor covering showrooms. As founder and president of Savvi Formalwear he grew the organization to over 400 stores and the industry's second largest chain of men's formal apparel stores.
Ramey was raised in Pittsburgh, Pennsylvania and resides in Miami, Florida.