Message From The President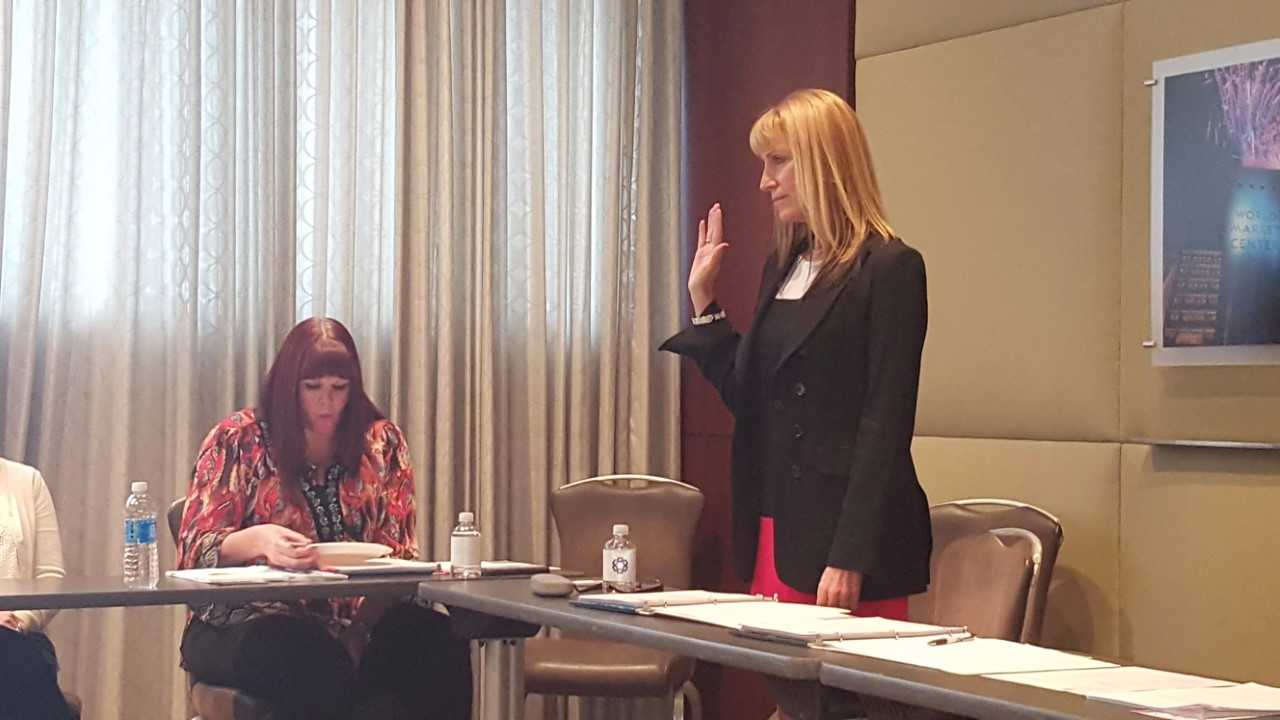 Hello Everyone!
Thank you for electing me as your Chapter President for the 2017-2018 Fiscal Year. I am so excited to be working with several new board members, as well as those who I've had the honor of working alongside these past few years, during my previous board roles.
During October, our board members converged in Las Vegas for our first board meeting and kick off event at Karndean Flooring. A big thanks to Karndean for hosting yet another fun event in their beautiful showroom, with special thanks going to Annette Callari for the inspiring, informative Color Marketing Group CEU.
After our new board members were sworn into their positions, they got right down to the business of serving you, our members, without whom we would not be here.
The first order of business was to vote in our chosen charity of the year, as Kelley McClellan, Executive Director from Children's' Heart Foundation (CHF), shared with us the heart wrenching statistics of the children who suffer from and lose their lives each year to congenital heart disease. CHF has chapters in Nevada and California.Thank you Kelley; we hope we do you proud. At each of the year's events we will be collecting diapers sizes 4-6 and diaper wipes... Kelley says they never have enough.
We want you to know our new board will be working hard to engage our members once again, and in doing so would like to invite you all to our Holiday Dinner Party at Nevada Lighting on December 14th at 5:30 pm, see invitation below for details. Please come out to meet your new board and fellow members, and enjoy dinner in Nevada Lighting's new showroom. We suggest a donation of either diapers and wipes, and/or toys for the children.
Not forgetting our California members, we are in the process of planning an exciting New Years Kick Off Event in California... Stay Tuned!
I would like to thank those of you who came out to support our 3rd annual ANDYZ Awards. The best of design should never go unnoticed and we are looking at an exciting, new way to get even more exposure for the designers at the 4th Annual ANDYZ Awards during 2018 Summer Market. Please keep this in mind going forward; we'd love for you to share and enter your favorite projects when we open for submissions, early in 2018. We'll keep you updated on the deadline dates and requirements as the time nears.
I would like to close by mentioning that as the holidays approach, CHF was chosen by Boyd Gaming to receive a Christmas tree to decorate, for their annual tree trimming competition, which benefits CHF. We have accepted Kelley's invitation to decorate the tree. For those interested in viewing the tree, it will be on display at Aliante Station from November 28th through December 26th.
Again, thank your for the honor of serving you. As always we always want to know how we can enhance your membership experience. Let's work together to make this next year a successful year. I look forward to seeing each of your smiling faces at our events!
Sincerely,
Renee Gangeness ASID, RID
ASID California Central | Nevada Chapter, President 2017-18