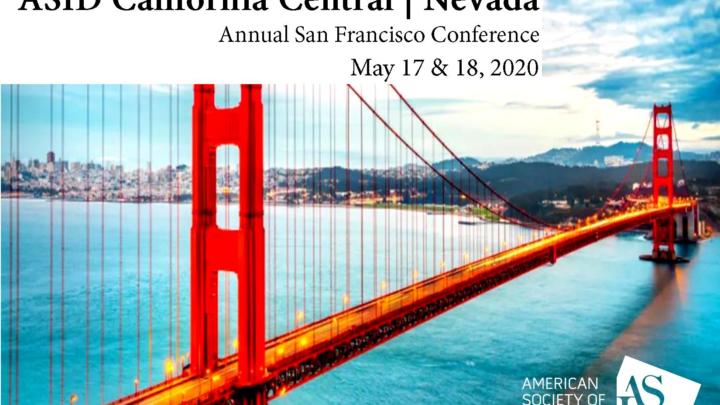 POSTPONED - Annual California Central / Nevada Chapter Conference in San Francisco
Description
COVID-19 Update:
Please note that all ASID California Central / Nevada Chapter events through the month of May, are now on hold in order to comply with the CDC's recommendation to avoid large group meetings and encourage social distancing.
Our California Central /Nevada Chapter Conference in San Francisco has been postponed, and the San Francisco Decorator Showcase House event has been rescheduled for later this year, a date is still to be determined.
******************************
Let's all come together for High Style, Exclusive All Access Tours, and Networking.
Join us at our West Coast California / Central Nevada Conference on Sunday, May 17th and Monday, May 18th.
Meet on Sunday at 10:30 am at San Francisco Showcase House for an exclusive ASID tour at 11 am. Meet the Industry Partners sponsoring the Showcase House.
Then to de Young Fine Arts Museum at 12 PM for luncheon (not included) and a private docent tour of 'Frida Kahlo: Appearances Can Be Deceiving'.
On Monday, meet at 9:00 AM at San Francisco Design Center for an exclusive tour of ASID Industry Partner showrooms. Get CEUs and see the Showcase House featured brands.
Ticket Cost for members $150 and Non-members $175.
Travel, food, lodging, and plans for extended stays on your own.
We''ll Stay at Villa Florence Hotel in the Heart of Union Square:
Conference Rate: $149 per night, and Resort fees waived.
Please call the Hotel's Reservations Department at 844- 838-8701 to book your room. Reservations must be made by Thursday April 16, 2020 to receive the discounted rate.
Attendees should identify themselves as being part of American Society of Interior Designers (ASID) Group when calling, or book your hotel stay through this lnk: https://tinyurl.com/ASIDsf
If you are interested in attending or you wish to find out more about the conference, please e-mail
Jamie Stringham: intdynamics1@yahoo.com
or
Kara Maas: kmaas@imcenters