Design Impacts Lives- Real World Stories
---
Nemours Alfred I. duPont Hospital for Children
In an effort to evolve its brand and strengthen the patient experience, Nemours embarked on a significant expansion of its Alfred I. duPont Hospital for Children. Designed to take family-centered care to new heights, the expanded facility introduces two new inpatient neighborhoods designed around a central atrium -all designed with input from families of this very special patient population.
The new five-story, 547,547 square foot patient care pavilion is located adjacent to the current hospital and features expanded services to meet the growing needs of children and their families. The building stands out for access to daylight, light harvesting, and bright interiors, and is celebrated for its colorful facade, innovative almond-shaped buildings, cost-saving solutions, and the children's influence on the overall aesthetic.
Located on Alfred duPont's 300-acre estate, in Wilmington Delaware, the building represents duPont's innovative spirit. The exterior fenestration animates local historic floral gardens using an arbor pattern skin, while arbor supported frames strengthen delicate growth -symbolic of Nemours mission of supporting children.

The Design Challenge
As a patient centered institution, emphasis was placed on the overall patient experience. Facility design and many of the amenities were developed to respond to requests from patients and families, including consideration of private vs. shared rooms, improved accessibility and navigation, more family space, and extended concierge services. In the innovative spirit of Alfred DuPont, the project team was tasked to utilize the expansive natural setting of the mansion gardens and provide access to daylighting for patients, family, and staff.
The Design Solution
The overall building form evolved from the patient room configuration and operational flows through the unit.
The eight-bed units increase the amount of clinical attention patients receive, and reduce patient count per clinician when compared with most hospitals.
Caregiver area was corralled and condensed for convenient clinician access and limited patient disruption to respect the patient's privacy and ownership, as well as their medical needs.
Large family gathering area in each patient room was designed to be a "home away from home" and provides a comfortable environment.
Monthly Inpatient Environmental Satisfaction Index rose by 33.97 percent in 2015, a significant 20-percentage point increase in raw scores compared to 2013. Contributing factors: the child feels safe and secure; room appearance and cleanliness; function; comfort for visitors; overnight accommodations.
Inpatient Monthly Likelihood to Recommend the Hospital to others, Top Box score averages rose by nearly 5.0 percent (in the periods recorded from 2013 to 2015).
Monthly Overall Rating of Emergency Department Care saw a 10.9 percent satisfaction rise among patient families.
PROJECT TEAM
Architecture & Interior Design: CannonDesign
Civil Engineer: VanDemark & Lynch
Structural Engineer: Cardno Haynes Whaley Inc.
MEP: Affiliated Engineers Inc.
www.asid.org/impact-of-design/nemours-alfred-dupont
---
GRADIENTS OF GREEN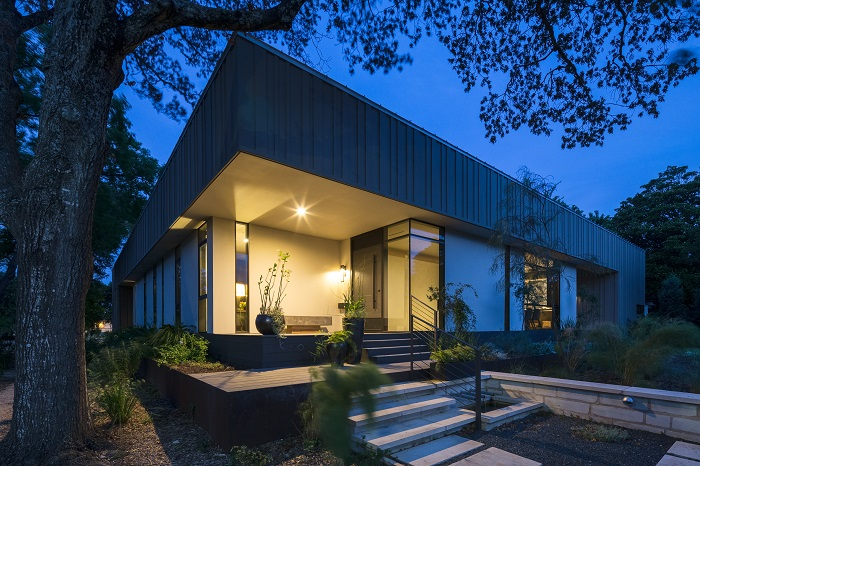 Gradients of Green is a LEED-Platinum certified single family home that referenced the WELL Building Standard in its design. As the personal residence of Laura Britt, ASID, owner and principal of Laura Britt Design, the objective was to implement both environmental and health and wellness aspects of sustainability in a residential space for the family. The building was also intended to serve as a role model for universal design/accessibility in residential architecture, and to be an example of a home showcasing thoughtful 'visitability.'
Utilizing various healthy and sustainable design strategies in the architecture, spatial layout, and overall product selection, the project created a healthy building, inside and out, with strong visual connection between key interior areas and easy access to outside from the main public and private areas.
by Laura Britt Design
---
---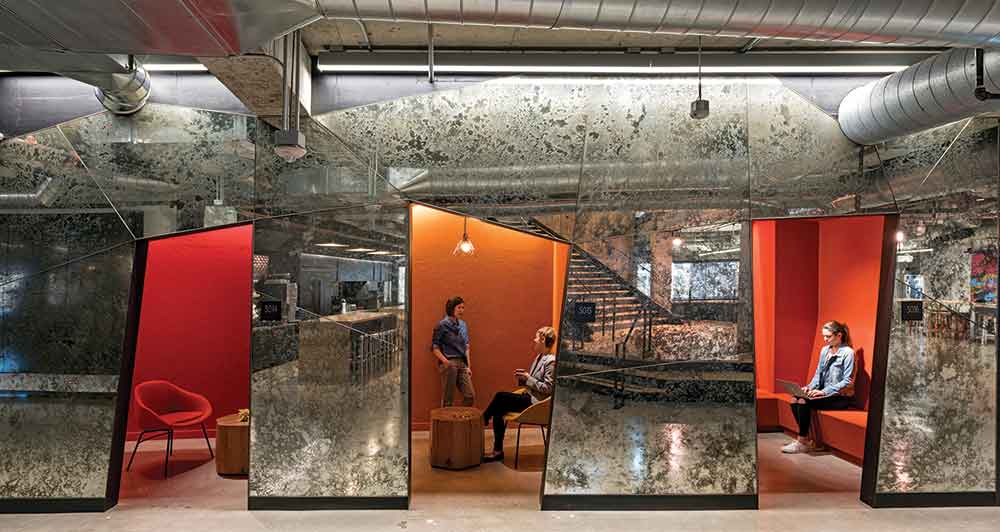 IA Interior Architects and BCCI Construction were charged with creating the unique
Capital One Offices in San Francisco
By Christine Abbate
In a time when disruption and "move fast, break things" are de rigueur, what does it take to be an actual pioneer? Finance giant Capital One is proving it is possible, having led the digital revolution and approaching its business as a technology innovator, not a bank. The company has also firmly planted a foot in the design world, with a Workplace Solutions team that applies Capital One's innovative take on business to its network of campuses. ASID spoke with Michelle Cleverdon, Capital One workplace strategist, to gain insight into the company's unique approach.
---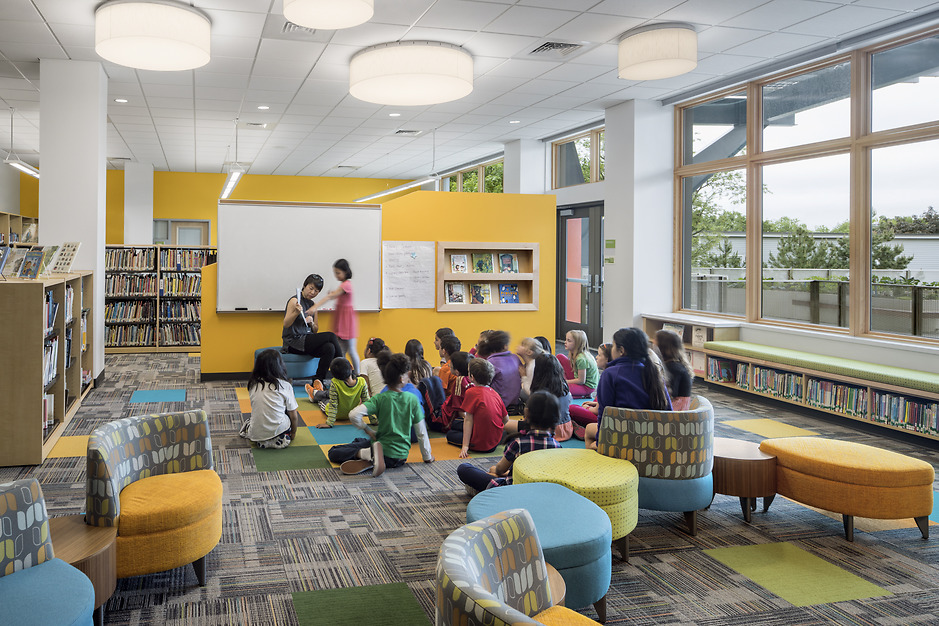 ASID is proud to feature the second project in its Impact of Design Series, the Dr. Martin Luther King, Jr. School in Cambridge, Massachusetts. We believe this data will inform the work of designers as they strive to create the optimal human experience.
Dr. Martin Luther King, Jr. School, a Brutalist building fraught with challenges, was selected as the prototype school for The Cambridge Green Schools' "Getting to Net Zero Framework," an initiative to change how the Cambridge school district thinks about energy in its buildings.
By definition a zero-energy building, also known as a zero net energy (ZNE) building, is a building with zero net energy consumption, meaning the total amount of energy used by the building on an annual basis is roughly equal to the amount of renewable energy created on the site, or in other definitions by renewable energy sources elsewhere.These buildings consequently contribute less overall greenhouse gas to the atmosphere than similar non-ZNE buildings.
The design team, led by Perkins Eastman, was tasked to create a high-performing building and a community school that responded to the needs of its neighbors. The project was complicated by the school's small and irregular site; the large and complex program accommodating 740 children from preschool to 8th grade; a robust after-school program; and an array of engaged stakeholders.
---
---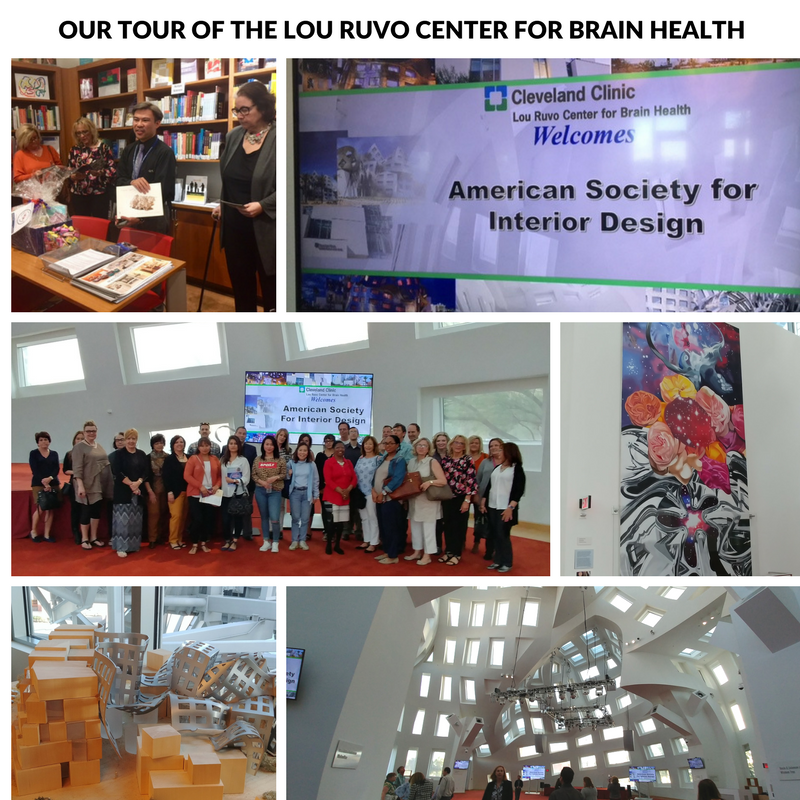 By Renee Gangeness ASID, RID
President ASID CAC/NV
As Interior Designers we profess, live and breathe, in our daily lives, how 'Design Impacts Lives'. It is not only our passion to help make a positive difference in the lives of others, but our responsibility as well...
Thanks to the board members of our chapter, we recently got to see, first hand, how design makes an amazing impact on the lives of many, as we organized a tour of the iconic Las Vegas Lou Ruvo Brain Institute. Anyone fortunate enough to experience the tour of this building and its inner workings would be hard-pressed to leave without a renewed sense of faith in humanity.
Whether this 'funky' looking building, that goes unnoticed to no one who passes by, appeals to one's aesthetic (or not); to get a glimpse into the why's and how's of its 'story', gives the utmost appreciation of the true passion behind the commitment of the people inspired to fulfill its mission.
From Larry Ruvo, a prominent local business man, who lost his father to Alzheimers; to the celebrated architect, Frank Gehry; to the doctors and researchers; to the tour-guide, caregivers, and all who are on staff at the institute; to all who come together within the community to support this mission dedicated to serving those who come from all over the world to receive treatment, there is a level of commitment second to none for the well-being of those who do come here for treatment.
From the orientation of the building to the well stocked library (for those who seek comfort and knowledge of the many diseases treated at this facility); to the use of natural and circadian lighting; to the personal care and safety in navigating patients to their treatment destination; to the slight, undulating corridors; to the genius, open feel of the treatment rooms; to the most sought after medical talent available...this is the kind of experience that we owe it to ourselves and those we serve to constantly seek out for inspiration to demonstrate how 'Design Impacts Lives'.